Acadiana

 Animal Aid has limited space for owned cats, kittens, dogs, puppies and stray animals. Because of the high demand for space, there may be a waiting period before an animal can be accepted into our shelter. Please note, 

Acadiana

Animal Aid accepts pets if we have space and by appointment only. Please scroll to the form below for assistance.
Reuniting On Your Own
Reuniting a lost pet with its owners should be the very first step when encountering a stray animal, as the majority of stray animals are found within a couple miles of their home. We recommend reviewing the suggestions below and putting any amount of effort into reunification before doing anything else.
FOUND A STRAY?
Have the animal scanned for a microchip for FREE at any veterinary office, including 24hr emergency clinics. Acadiana Animal Aid also offers this service. 

Post flyers and knock on any homes or businesses in the surrounding area that the animal was found. Contact local veterinarians and shelters/rescues.

Post on Facebook and in groups geared towards reuniting lost pets with their owners:
Use resources such as

Pawboost

and

Nextdoor

app to instantly spread local awareness and reach a wider audience. 

Try to commit to holding the animal in your care or finding someone else who can while putting forth efforts to locate a possible owner OR eventually rehoming the animal. 
Check out pets.findhelp.com for additional resources in your area.
Rehoming your pet should be easy & stress free both for you & your pet. That's why Adopt-a-Pet.com, the largest non-profit pet adoption website, with support from The Petco Foundation, have created a simple, reliable, free program to help!
HOW IT WORKS:
Create a Pet Profile

Get your pets posted on Adopt-a-Pet.com to be seen by millions of pet adopters.

Review Applications

The dedicated team at Rehome will give you all the help you need to select the best potential adopters.

Meet Adopters

The Rehome team will guide you through the process of setting safe and pressure-free meetings with applicants.

Finalize Adoption

Rehome will provide you with an adoption contract to protect the transfer of your pet ownership.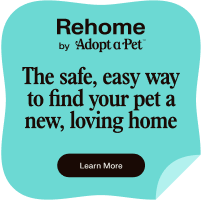 Surrender Request Form to AAA
After completion of this form please allow time for our staff to review everything and get back to you. If you have any additional questions or require further assistance please email surrender@acadianaanimalaid.org